For our first overnight trip on our new boat, we chose a trip to Tallowa Dam in Kangaroo Valley, NSW, up the beautiful Shoalhaven River gorge. A canoe is a great form of family transport – it easily fits four people and a ton of camping gear. The fully loaded canoe is fairly slow on flat water, but hey, we are not here to race. Our destination is Fossicker's Flat campsite, about 8 km up the river from the dam wall.
Both Mum and Dad remember river canoe expeditions from our "pre-kids days" as great summer fun. Lately, we had done some boating with the kids on a cheap inflatable kayak. Those were short fun paddles on flat water. The boat was very slow when loaded with two adults and two kids, but since it was easily packable, we had fun exploring Fraser Island lakes, Dunn's Swamp or Bittangabee Bay. We thought about upgrading to a proper hard-body canoe, but they are too big to transport and store. And then we found it: the mighty Gumotex Scout inflatable canoe, packable to a bag, but almost as stiff as a hard body boat when pumped up.
Our trip starts from the car park near the dam wall. After crossing the open dam waters, the valley narrows and we enter the lovely Shoalhaven River gorge. Tall cliffs tower above us, and we enter the "Ghost Forest" – dead trees flooded by the dam, sticking eerily out of the water.
Unfortunately, the idyllic paddle does not last forever. The wind picks up, followed shortly by a downpour. Slogging to headwind when drenched and cold is no fun, so we find a bit of a flat on the bank side and decide to set camp there.
Changed into dry clothes, with a fire going and dinner in our tummies, the world is good again. As a reward for our cheerful attitude, the rain stops and we are treated to a spectacular sunset over the gorge.
The next morning, the weather is beautiful. We pack up and decide to explore further up the gorge. To our surprise, the official campsite is only another 200 meters from our makeshift camp spot, complete with the convenience of long drop toilets. With the destination reached, we shift to a lazy mood, enjoying the warmth and sun, swimming in the river, and slowly making our way back.
After lunch, the wind picks up again – this time it is helping us. The kids promptly set up a sail from the rain poncho to help us paddle back. The only challenge comes on the final open dam, where a strong gust of wind nearly tips the canoe over. Happy that we did not capsize and drown all the gear only meters from the shore, we pack up.
Any trip to Tallowa Dam would not be complete without a visit to the historical Hampden Bridge and a "world famous" pie from the shop nearby.
Ahoy!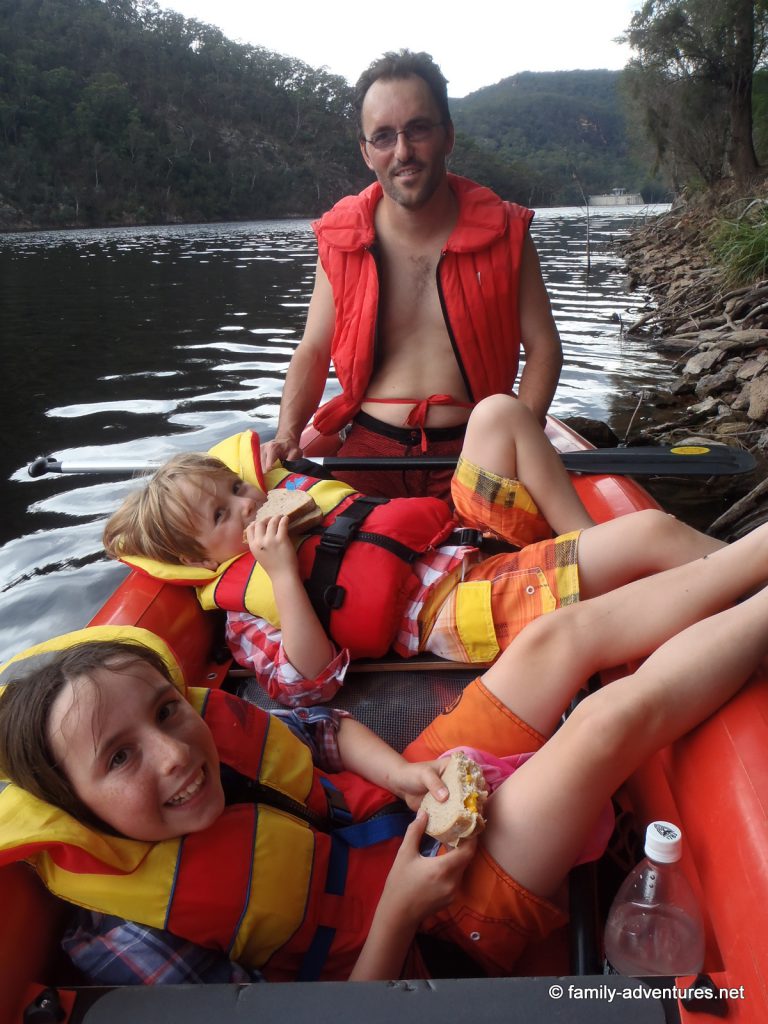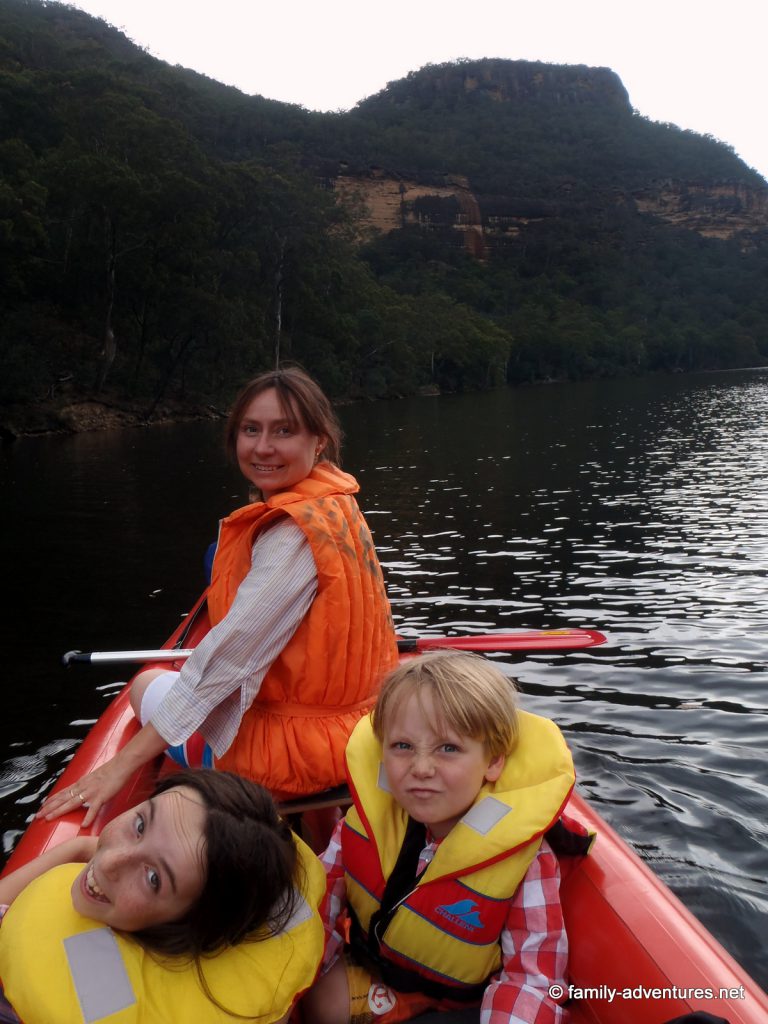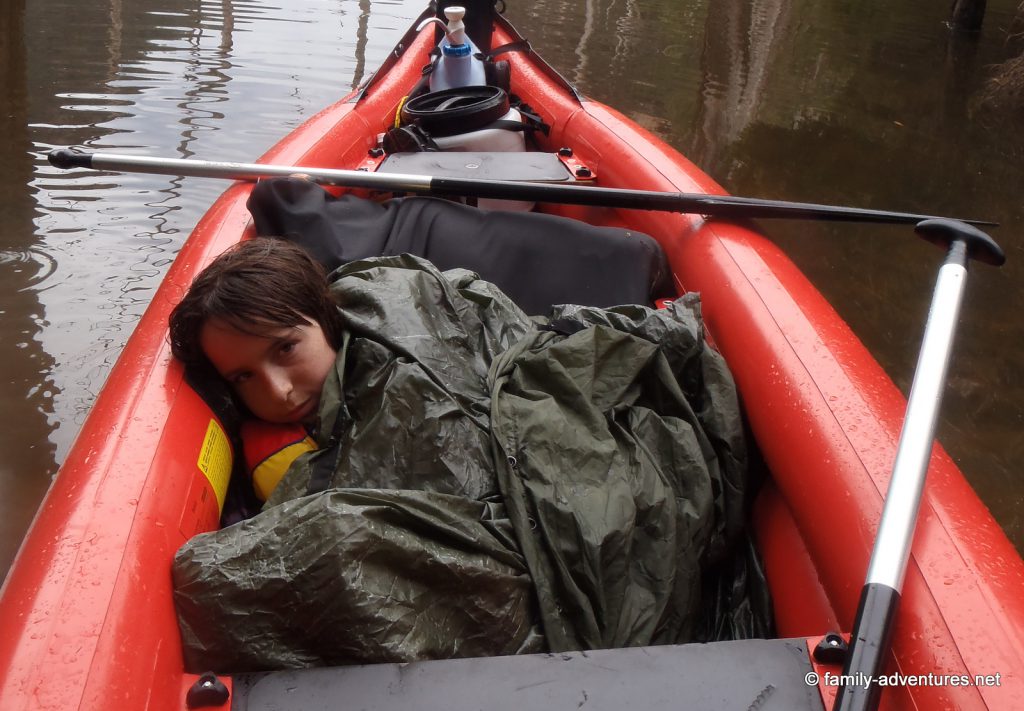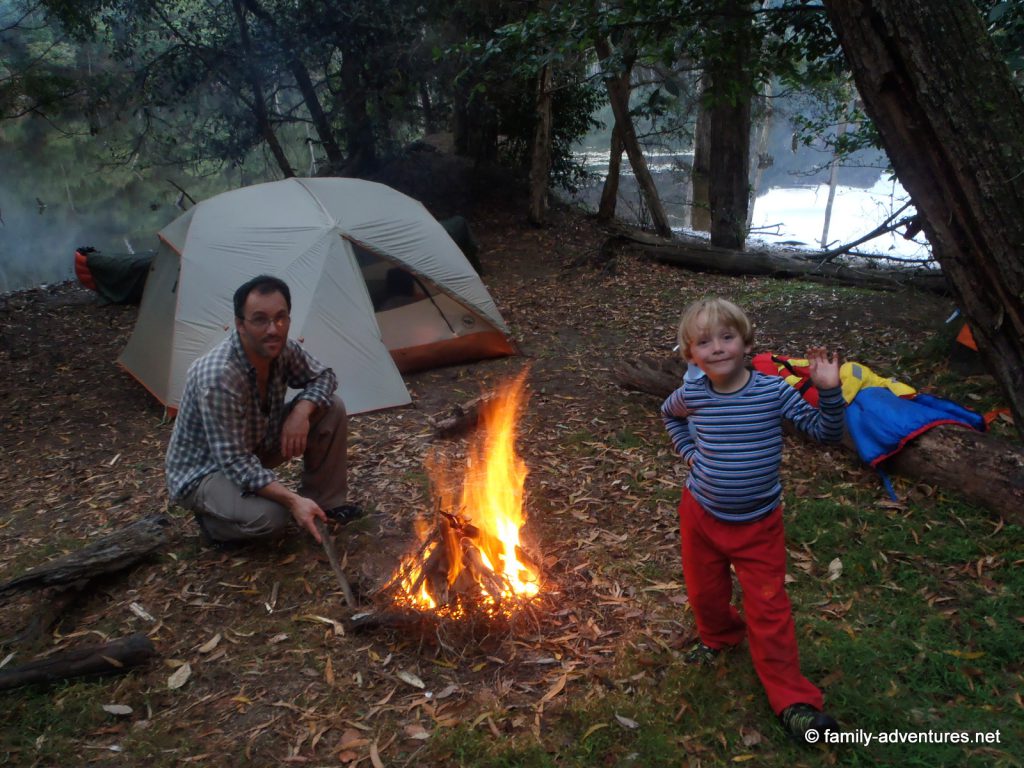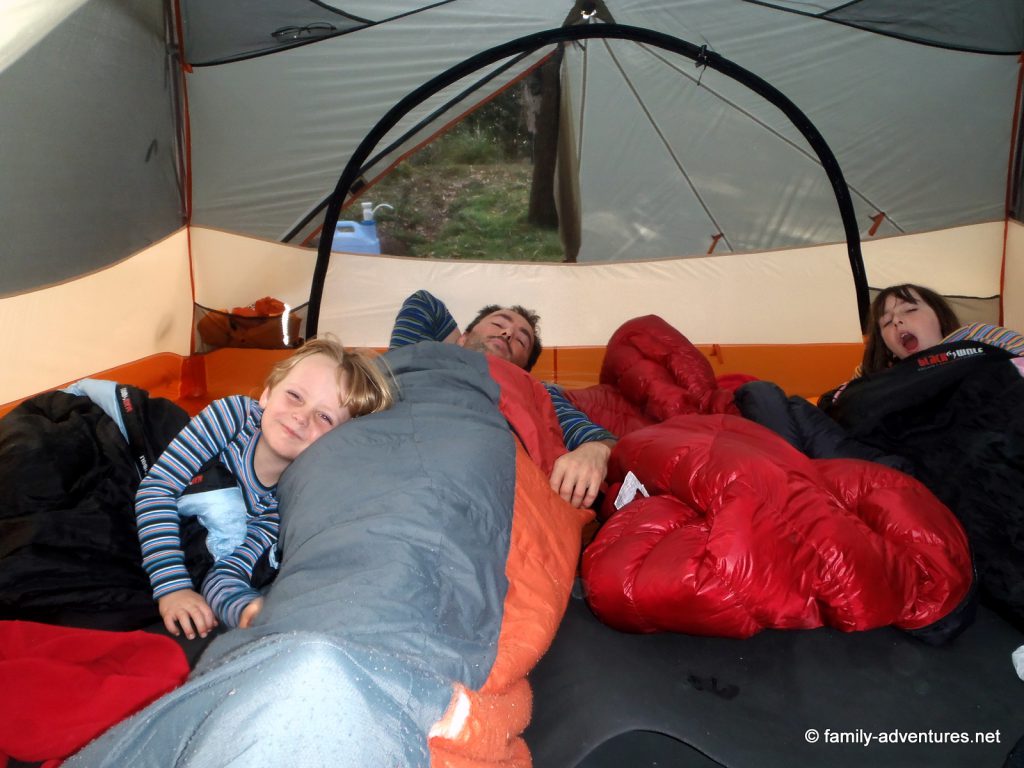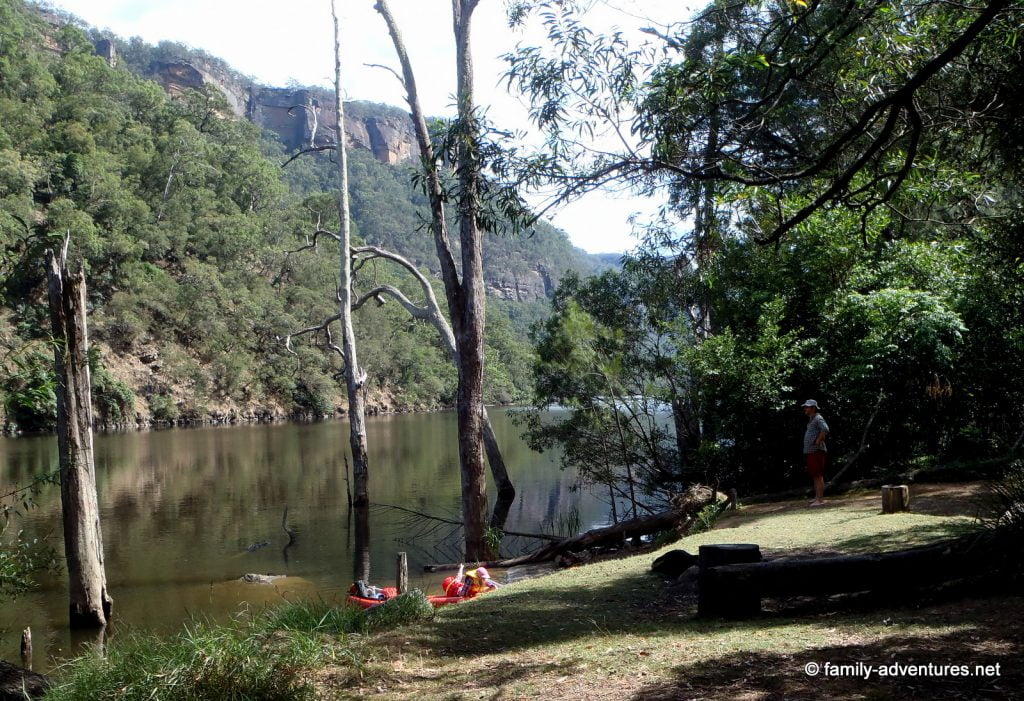 Practical tips
Fast facts
| | |
| --- | --- |
| What: | An overnight canoe paddle on the Tallowa Dam |
| Where: | Tallowa Dam on Shoalhaven River, near Kangaroo Valley, NSW |
| How far: | About 8km paddle one way (16km total) from the car park near the dam wall. |
| Kids ages: | Tobias 6 years, Anika 9 years |
For a canoe or kayak hire or complete trip packages, visit http://www.kangaroovalleycanoes.com.au
What was fun for the kids
| | |
| --- | --- |
| Relaxing on the canoe  | Our kids soon realised that paddling is a hard job, better left to someone else, and decided it is better to lay back and enjoy the ride. |
| Water fun | In the right weather, swimming in the river on just any flat along the bank |
| Treats after the adventure  | Pies are an important finale for the day on the water |